---

Ricardo Druck
Santiago Gaudio
This international pass connects the Chilean cities of Victoria and Lonquimay with the Argentine cities of Las Lajas and Zapala.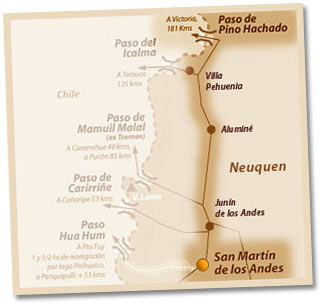 You can drive to this pass on international route CH-181 Curacautín-Paso Pino Hachado, driving through Victoria, Curacautín and Lonquimay.
On this road, you will drive through spectacular natural protected areas in Chile, surrounded by volcanoes and Araucaria forests (monkey-puzzle trees). After crossing the border, you will be in the arid region that characterizes the north of the Argentine province of Neuquén.
Once you get to the Argentine side you can drive to the city of Las Lajas on national route RN 22, and from there to Zapala. In order to arrive to San Martín de los Andes, you need to drive 250 kilometers (155 mi) further along national routes RN40 and RN234.
This pass is open year round, but it is sometimes closed in winter due to weather conditions. In summer, the pass is open from 8am to 8pm, and in winter from 8am to 7pm.

Content manager
:
Secretaría de Turismo
Office
: Secretaría de Turismo - Av. San Martín y Juan Manuel de Rosas
Opening hours
: 7:00hs a 14:00hs
Phone
: 02972-425500

Back to:
Getting Here

Visit also:
Access Roads
,
Ground Transportation
,
Taxis (and Remises)
,
Immigration and Customs
,
Lake transportation
,
Car Rental
,
Flights
,
Road conditions DPV