---

Municipalidad San Martín de los Andes
Efrain Dávila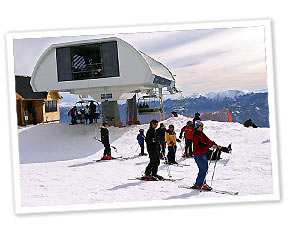 In winter, when days become shorter and snow piles up, the city of San Martín de los Andes changes.
Contrasts of unbelievable beauty cover the landscape while shapes are rounded with the snowfall; the streets, trees, gardens and mountain village architecture combine in an unforgettable Patagonian postcard. It's the time for logs burning in the fireplace, the smell of firewood smoking up the chimneys into the sky, breakfast overlooking amazing views, and the vertigo of mountain sports in our international Chapelco Winter Resort. The visitor is met with an ample range of possibilities. The winter resort welcomes skiers and snowboarders with its varied runs and lifts. The city, with its comfortable lodging possibilities, its delightful regional dishes, viewpoints, pubs, night clubs and Casino, offers the perfect combination of services in a safe family-oriented environment, immersed in an outstanding natural landscape.

Pictures
Take a look at these photographs and start picturing your ideal skiing vacation.