---
A half-day sailing trip on Lácar Lake to Villa Quila Quina in Lanín National Park and on lands of the Curruhuinca Mapuche community.
Duration: Half noon
Distance: 0 kms
Enabled: Summer, Autumn, Winter, Spring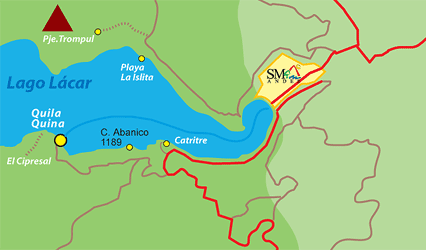 Description tour: Quila Quina by ship
You can visit beautiful beaches, and you will have the possibility to do several water activities in one of the most spectacular beaches in the region.
Eventhough the tour is available all the year, during summer there are daily frequencies to Villa Quila Quina starting from the pier located in the coast, but they do not include the tour guide service .

The trip lasts about half an hour and you will be able to enjoy splendid views of the surrounding hills, such as Abanico and Colorado and Piedra de Trompul.
After about 20 minutes, on the left coast you will see the beaches and Catritre campsite next to some houses that belong to members of the Mapuche community. Opposite there is "Paraje Trompul" also inhabited by native people. On the coast there is a beautiful beach with a wild campsite in the area known as "Playa Blanca" (White Beach), near La Islita.
A bit further, on the Southern edge of the lake, you will see the imposing Cerro Abanico. It is distinguished by a spectacular granite wall which has got showy vertical lines, and below it there is the maximum depth of Lácar Lake (277 metres).
Villa Quila Quina
A few more minutes from there you will reach Villa Quila Quina. The natural geography of the place is amazing, where you will take delight in the lake, the mountains and forests, and in summer the temperature can reach 30º C., being this ideal for enjoying outdoor activities such as hiking, visits to paintings made by ancient communities, horseback riding, biking, fishing, water sports and 4x4 excursions.
In this village you will notice two different cultures, one that includes the owners of luxurious mountain-style homes, which are used only during summer or some weekends. The other one, the Mapuche community, who are native people that produce their own vegetables, sell firewood and crafts, and raise sheep.
It is recommended to walk until the Arroyo Grande cascade, located 700 metres from the pier. You must pay an access ticket since it is located in the lands of the Mapuche community. A local guide will accompany you to the cascade, where you will be able to enjoy the incredible landscape.
In the Village you will find a coffee shop, a restaurant in the organized campsite, a wild campsite and craft stalls from local inhabitants where you will be able to buy from wooden objects to marmalades and weavening.
Price and timetable: www.lagolacarynonthue.com