---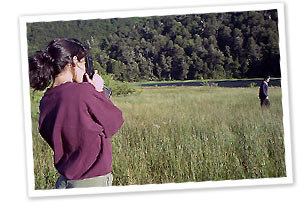 The unique natural setting in which San Martín de los Andes is located offers a wide range of possibilities for visitors. Right next to Lanín National Park, the surroundings of the city provide all the natural resources you need to enjoy nature, adding some extra value to this top tourist destination.
Millennial forests, glacial lakes, beaches, crystal-clear water streams, fresh air, flowers, birds, volcanoes, waterfalls and starlit skies are part of the overwhelming scenery our Patagonian Nature proudly displays, where enjoyment and surprise will be an essential part of your unforgettable holidays.
Various tourist circuits allow visitors to come close to a live postcard of Paradise on Earth: the Seven Lakes Road, Huechulafquen Lake and the Lanín volcano, Chapelco winter and summer resort, hidden lakes like Queñi and Filo Hua Hum, solidified lava rivers like El Escorial, hot springs at Lahuen Co, volcanic beaches...