---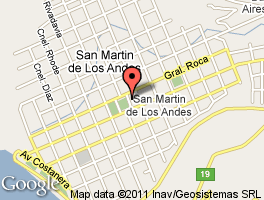 Located in the middle of the city, in the historic building that had been used for the first Promotion Commission, it is one of the best options to revive the past and the origins of the main tourist town of the province.
Duration: A few hours
Distance: 0 kms
Enabled: Summer, Autumn, Winter, Spring
Description tour: Primeros Pobladores Museum (First Settlers Museum)
The small wooden building with a metal roof is opposite the Civic Center, between the Municipal Building and the offices of the Ministry of Tourism.

Its structure and image are a historical reference. It was built in 1930 and used for the first Promotion Commission of the emerging urban center founded in 1898. It had been part of the Municipality and kept on being a public building until 1959.

With the construction of the new Municipal building in 1962, it was used as a storehouse and had deteriorated over the years. Nearly three decades later it was recycled, repaired and placed back into its original location, transformed now into a regional museum.
First Settlers Museum
The museum consists of two rooms with objects, photographs and samples of the early years of the city.

On the one hand, an ethnographic room concentrates history of native people, with a varied collection of earthenware, weaving and Mapuche silverware.

On the other hand, a room dedicated to the first settlers allows visitors to understand the development of migrations that have given origin to the town. Here you will find pictures, testimonials and elements that give a full idea of the dreams that the first settlers had, their sacrifices and their achievements related to the growth of tourism in San Martín de los Andes.
Timetable
Mondays , Wednesday , Thuesday, Friday and Saturday from 2pm. to 6 pm.
Tuesday and Sunday closed.

Content manager
:
Secretaría de Turismo
Office
: Secretaría de Turismo - Av. San Martín y Juan Manuel de Rosas
Opening hours
: 7:00hs a 14:00hs
Phone
: 02972-425500

Back to:
Outdoors

Visit also:
Thermal Springs
,
Seven Lakes Area
,
Paso Córdoba Area
,
Lanín - Tromen Area
,
Lolog Area
,
Lácar Area