---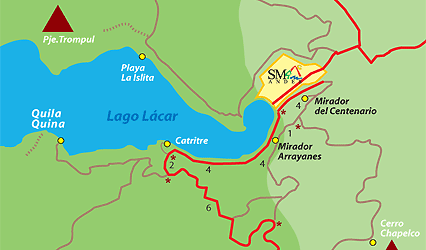 A challenging climb leads to one of the most impressive viewpoints of the area, with exceptional views of the city and Lácar Lake.
Duration: Half noon
Distance: 22 kms
Recommendations: Take water, a warm jacket, energy food, a photograph camera and do not forget the proper use of gear changes in order to make the difficult stretches easier.
Enabled: Summer, Autumn, Winter, Spring
Description tour: Arrayán Viewpoit
From the pier located on the Coast of Lácar Lake, you should go on until you reach the junction of the National Road Nº 234 "of the Seven Lakes" and the Provincial Road Nº 19.
You should take the Provincial Road Nº 19, located on the left, go along about 3 km on the paved road that leads to the ex Sol de los Andes Hotel.
A few meters ahead always going up, the pavement finishes. The first way to the right leads to the Reserva and Mirador del Centenario, a fantastic viewpoint where you will be able to appreciate a view of the city.
The second detour one kilometre further, always going up, leads to Arrayán Viewpoint.
Arrayán Viewpoint
From this place you will enjoy a beautiful view of almost the whole Lácar Lake and the Andes mountain range. The viewpoints have been recently built, with access for the disabled and a modern design, which allows visitors to enjoy all the beauty of the landscape and the city.
Then you can return along the same way or continue until you reach the National Road Nº 234 "of the Seven Lakes", among a forest of Cypress trees. Going up you will reach the summit of Comandante Díaz Hill, and when you reach the paved road you should turn right.
The way will lead to San Martín de los Andes, going along a slope down of 11 kilometres.

Content manager
:
Secretaría de Turismo
Office
: Secretaría de Turismo - Av. San Martín y Juan Manuel de Rosas
Opening hours
: 7:00hs a 14:00hs
Phone
: 02972-425500

Back to:
Sports and Adventure

Visit also:
Trekking
,
Meetings and Events
,
Horseback_Riding
,
Mountaineering