---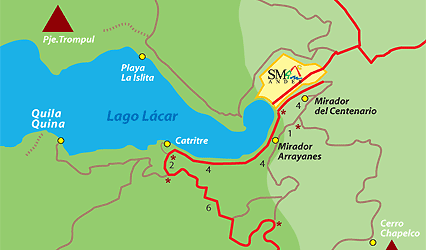 A tour near the town, with spectacular viewpoints from which you can appreciate the magnificence of Lácar Lake and a view of the city of San Martín de los Andes.
Duration: A few hours
Distance: 5 kms
Enabled: Summer, Autumn, Winter, Spring
Description tour: Arrayán Circuit
This is a simple tour and the place can be reached by car. If you do not have physical problems, you don't smoke and you are not afraid of challenges, the suggestion is to do it walking.
No matter which option you choose, the starting point will be the pier of Lácar Lake coast, where the lake excursions depart.
Three hundred metres on the left you will see two roads, the right one called the National Road Nº 234, known as "the road of the Seven Lakes", and the left one, which is the one you should take to reach the viewpoints.
In the central square between the two roads, a stone mausoleum recalls the figure of the General Rudecindo Roca, Julio A. Roca's brother, to whom it is attributed the foundation of the city of San Martín de los Andes (February 4, 1898).
Recent documents found in the municipal archives, testified that the real founder was Coronel Celestino Pérez, following orders from General R. Roca.
Mirador del Centenario and Arrayán (viewpoints)
During the ascent, the first thing you will find on the right is the abandoned building of Sol de los Andes Hotel, that became a cultural and educational project together with the Polytechnic University of Valencia, aimed at training for tourism.
From there on, the road is not paved, and then you will find two ways. The right one leads to the Mirador del Centenario, with a beautiful view of the city, a picnic area and a playground.
The main road continues going up, surrounded by Cypress trees. Then the lake will appear among the trees, and modern viewpoints with handrails, a ramp for the disabled and illustrative information boards. You will be able to see the city, the pier and boats, Bandurrias hill opposite the viewpoint, and the lake on its journey to the Pacific Ocean, surrounded by mountains, bays and forests.
You can also visit the old log tea house, its history and spectacular windows with a view across the lake are amazing.
La Vuelta al Arrayán
If you are walking we recommend to go back to the city. However, if you are traveling by car or bicycle, you can go on approximetely a hundred metres further and enjoy a spectacular panoramic view on a steep cliff.
Some more kilometres ahead, the way is divided in two, "Arrayán Corto" which descends on the right until kilometre eight of the National Road Nº 234 or "Arrayán Largo" which a few metres further turns to the right as well, until kilometre eleven. From there on you can return to the city along the paved road.

Content manager
:
Secretaría de Turismo
Office
: Secretaría de Turismo - Av. San Martín y Juan Manuel de Rosas
Opening hours
: 7:00hs a 14:00hs
Phone
: 02972-425500

Back to:
Outdoors

Visit also:
Thermal Springs
,
Seven Lakes Area
,
Paso Córdoba Area
,
Lanín - Tromen Area
,
Lolog Area
,
Central and Vegas Areas